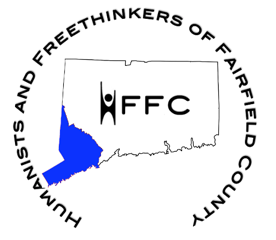 The Humanists and Freethinkers of Fairfield County (HFFC), Connecticut, seeks to promote Humanism and free thought in our community.
Humanism is a progressive lifestance that, without supernaturalism, affirms our ability and responsibility to lead meaningful, ethical lives capable of adding to the greater good of humanity. Freethought is a philosophical viewpoint that holds that opinions should be formed on the basis of logic, reason, and empiricism, rather than authority, tradition, or dogma.
Our bywords are Reason and Compassion. We look for evidence as the basis of our beliefs about the world, and we embody compassion as our approach to others. We seek:
1. To provide a forum for mutual and public education,
2. To establish a mechanism to counter religious fundamentalism, and
3. To form a warm, supportive community of like-minded people.
We welcome all who wish to participate.
Our meeting locations vary but we often meet at the Silver Star Diner, Norwalk, CT. Please see our Meetup page for more information.
Click on map pin for Directions link:
Additional contact email: